Fake news, as we know it, is notorious for causing distress. While some fake news may have started off with good intentions, many who create fake news are motivated either to make money or destabilise communities through fear or hatred.
When fake news goes out of control, as it often does, it ends up hurting people — and it's not just online reputations that suffer, but as we've seen from recent tragedies overseas, brutal physical violence can also erupt.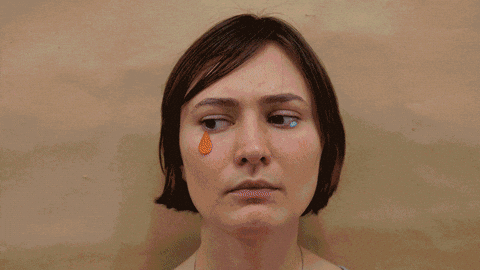 Gif: Giphy / nikitaliskov
---
"They can cause harm to innocent Singaporeans; they can cause unnecessary alarm to the public; emergency resources may be diverted from legitimate emergencies and the reputation of honest Singapore businesses may be unfairly damaged."
Law and Home Affairs Minister K. Shanmugam in Parliament, 03 April 2017
---
Here's a recap of some unfortunate events that occurred in Singapore recently:
Case in point #1.
A halal logo for pork belly?

Photo: Facebook
A halal business eatery selling Yong Tau Foo was affected when a rumour that it sells pork belly emerged. Luckily, it was all a misunderstanding and there were quick-witted people that corrected the story online.
Case in point #2.
Collapsed roof or a parallax error?

Photo: All Singapore Stuff
When news of a collapsed HDB rooftop in Punggol broke, the Police and Civil Defence Force were activated to investigate. It turned out to be a false alarm and MP Sun Xueling from Pasir Ris-Punggol GRC recounted that "false news has caused a wastage of public resources which could have been used in other areas where they are needed more". We couldn't agree more.
Case in point #3
Luring or merely helping?

Photo: The New Paper
Early this year, several international schools sent letters to parents urging them to be vigilant when it came to their attention that students were allegedly lured into vehicles. Speculation that these were kidnapping attempts sparked panic amongst many parents. The police investigated and clarified that these were cases of helpful drivers offering students a lift.
As said by Minister Shanmugam, "while it is important for young children to be taught to be careful when approached by strangers, there is also a need to be careful of spreading untrue stories that will cause unnecessary alarms".
Yup, think before you spread.
Case in point #4
Is it safe to eat or not?

Photo: Facebook
"Durians in Singapore are not safe to eat!" — rumours of high levels of insecticide in Malaysian durians prickled local durian lovers to doubt the safety of durians imported from Malaysia.
Fortunately, our colleagues from the Agri-Food & Veterinary Authority of Singapore (AVA) were quick to debunk the untruths: they have been regularly inspecting our imported fruits to ensure compliance with food safety standards, and assured the public that any fruit that failed the inspections would not be allowed for sale. Thank you, AVA!
These are just a few examples of how fake news have real-life consequences. Do encourage your family and loved ones to practice responsible social media habits, and remind them, "If you're not S.U.R.E, don't spread."
For more tips, continue to read Singapore's fight against Fake News: What you can do.
----
Sources:
https://www.straitstimes.com/singapore/be-careful-of-spreading-untrue-stories-that-will-cause-unnecessary-alarm-k-shanmugam-on
https://www.straitstimes.com/politics/parliament-government-to-review-laws-to-tackle-fake-news
https://www.straitstimes.com/politics/singapolitics/ministers-mps-give-examples-of-deliberate-falsehoods-in-singapore-and-beyond
https://www.tnp.sg/news/singapore/business-slow-westgate-stall-after-confusion-over-halal-status
S.u.r.e combating fake news tip sheet: http://www.nlb.gov.sg/sure/wp-content/uploads/2018/07/SURE-Fake-news-tip-sheet.pdf
-----
P.S. The examples and its accompanying photos in this article are used strictly for educational purposes.